Touch mouth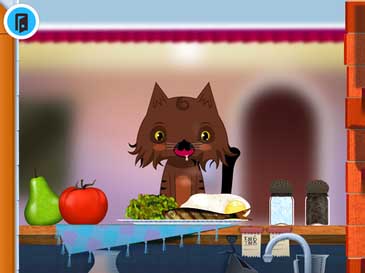 Toca Boca is a Swedish development studio focusing on child-friendly applications for tablets and smartphones. As reported on the company's website: "We create digital toys and games, that stimulate the imagination ". The company is owned by Spin Master (from 21 April 2016 year), based in Stockholm , Sweden.
Toca Boca was founded from the Research and Development department of Bonnier. The studio started in September 2010, and his first app was released in March 2011. Most of Toca Boca's apps are digital games. The name Toca Boca translates from Portuguese as "touch your mouth". It was chosen for its simplicity and play on words.
Toca Boca has released 44 digital toys, which have been downloaded over 275 million times around the world, making it the largest publisher of paid applications in the App Store. Various developed applications include:
Helicopter Taxi
Helicopter Taxi , the first app released by Toca Boca, was a digital toy, which included augmented reality effects. By using the camera of the device, the player designates six horizontal surfaces in fact as "Beach", "High building", "Factory", "Hospital" and "Hangar". However, the physical locations do not have to match the description of the landing, and the landing surfaces need not be accurate or consistent. The toy characters consist of two pilots and five passengers, and the purpose is to lift and guide passengers to their destination by moving with the device, to simulate flying a helicopter. This game was later discontinued.
Play Tea Party
Second app released by Toca Boca, Play Tea Party, imitates a tea meeting, primarily through role play. The player can design his table, choosing a tablecloth, dishes, music and drinks. There are interactions, such as "eating", "drinking", "Pouring" and "cleaning". Party guests can consist of toys and / or people operating the touch screen for multiple users at the same time.
Toca's kitchen
Toca Kitchen allows the player to interact, choosing how to prepare food (cut, cook it, mix etc.), To feed one of the four characters. Each character has their own preferences for ingredients and style, visible in the reactions of the character and the desire to eat the product. Food can be obtained an infinite number of times and there are very few restrictions on that, how many times it can be processed.
It would be Toca Life
Toca Life to would be gier, which encourage the player to imagine a story for the characters in the game. The player can drag the character with his finger on the screen and order him to eat, sit down, etc.. There are different places in the series, which the character can go to depending on the theme of the game. (City, Farm, Office etc.) There are groups, such as Children, Elderly, Babies and Creatures. The player can add more than one character to the scene. Character disguise was introduced in Toca Life: City.
Touch Life: World
Touch Life: World was released in November 2018 year – merged all existing standalone Toca Life apps into one connected universe. It can be downloaded for free, and players are invited to play the free version (which comes with Bop City, as well as the free version of the character creator) or to customize the application with any options, which they find most interesting.
If the player has already purchased any of the Toca Life games, will have access to these applications on Toca Life: World. Players can play characters from individual Toca Life apps at any Toca Life location: World.
Toca Life List (in order):
Touch Life: Town
Touch Life: City
Touch Life: School
Touch Life: Vacation
Touch Life: Farm
Touch Life: Stable
Touch Life: Hospital
Touch Life: Office
Touch Life: Pets
Touch Life: After School
Touch Life: Neighborhood
Touch Life: World
The list of approved applications is as follows:
Toca Hair Salon 4 , February 2020
Toca Kitchen Sushi , December 2018
Touch Life: World , November 2018
Touch Life: Neighborhood , October 2018
Toca Mystery House , June 2018
Touch Life: After School , March 2018
Touch Life: Pets , December 2017
Touch Life: Office , September 2017
Tap Lab: Plants , June 2017
Touch Life: Hospital , April 2017
Toca Hair Salon 3 , December 2016
Touch Life: Stable , November 2016
Touch Life: Farm , October 2016
Touch Life: Vacation , June 2016
Toca Dance Free , March 2016
Play Dance , February 2016
Tap Blocks , December 2015
Touch Life: School , October 2015
Touch Life: City , June 2015
Toca Kitchen 2 , December 2014
Touch Nature , November 2014
tap boo , October 2014
Touch Life: Town , maj 2014
Tap Pet Doctor , February 2014
Tap Lab: Elements , December 2013
Toca Hair Salon Me , November 2013
Touch Mini , October 2013
Tap Cars , September 2013
Toca Builders , June 2013
Toca Hair Salon 2 , December 2012
Toca Tailor: Fairy Tales , November 2012
Toca Tailor , October 2012
touch band , September 2012
Touch Train , June 2012
Toca Kitchen Monsters , March 2012
play house , February 2012
Toca Kitchen , December 2011
Toca Hair Salon – Christmas Gift , November 2011
Toca Birthday Party , October 2011
play store , October 2011 r
Tap Robot Lab , July 2011
Toca Hair Salon , June 2011
Paint My Wings , maj 2011
Tap Doctor , April 2011
Play Tea Party , March 2011
Helicopter Taxi , March 2011 r
The term digital toy is sometimes used to distinguish certain applications from more typical virtual games. Although most of the aspects between them are the same, Toca Boca singles out digital toys as more "open" with fewer rules. However, neither is it believed, nor was it proven, that it has a more or less harmful or beneficial effect on players. Although these "digital toys" are aimed at children, does not mean it, that they are only intended for children.