Squid Game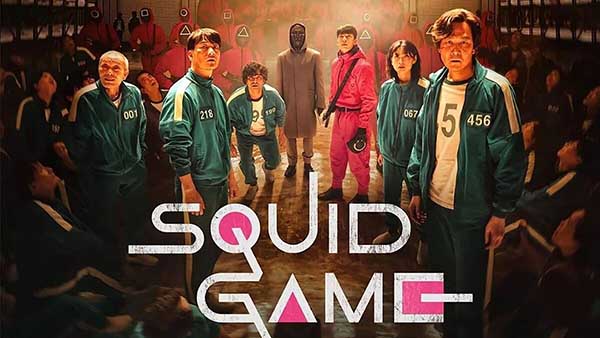 Squid Game (Korean: squid game; RR: Ojing-eo Geim) is a South Korean survival drama series, broadcast on Netflix. Written and directed by Hwang Dong-hyuk, the stars are Lee Jung-jae, Hae-soo Park, Wi Ha-joon, Jung Ho-yeon, O Yeong-su, Heo Sung-tae, Anupam Tripathi i Kim Joo-ryoung. Serial, distributed by Netflix, has been released all over the world 17 September 2021 r.
The series revolves around a competition, wherein 456 players, all drawn from all walks of life, but everyone is deeply indebted, they play a series of games for kids with lethal punishments, if they lose, to have a chance to win a prize 45,6 billion won (38,5 million dollars). Hwang came up with this based on his own economic struggle early in life, and class inequalities in South Korea. Although he initially wrote it in 2008 year, was unable to find a manufacturing company, which would finance the idea, until Netflix got interested in it in 2019 year as part of an effort to expand its offer of foreign programs. Hwang wrote and directed all nine episodes himself.
Squid Game received critical acclaim and gained international attention. Within a week of its premiere, it has become one of the most watched programs on Netflix in several regional markets; in the first 28 days of release has attracted over 111 million viewers, surpassing Bridgerton as the network's most watched show.
Description of the plot:
Seong Gi-hun, a divorced and indebted chauffeur, is invited to play a series of games for children, in which he has a chance to win a big cash prize. By accepting the offer, he is taken to an undisclosed place, where is among the 455 other players, who are also deeply indebted. Players wear green tracksuits and are guarded at all times by masked guards in pink jumpsuits, and the games are supervised by Front Man, who wears a black mask and a black uniform. Players discover soon, that losing the game results in their death, and every death adds 100 million yen for a potential jackpot worth of 45,6 miliarda jenów. Gi-hun sprzymierza się z innymi graczami, including his childhood friend Cho Sang-woo, to try to survive the physical and psychological twists and turns.
Main cast
The numbers in parentheses are the number assigned to the character in Squid.
Lee Jung-jae jako Seong Gi-hun

(Sung Ki-hoon, Korean pronunciation:

[sʌŋ give she]

, 456), chauffeur and gambling addict,

mieszka z matką i walczy o finansowe utrzymanie córki

.

Bierze udział w Grze

, to settle his many debts.

Park Hae-soo jako Cho Sang-woo

(Jo Sang-woo, Korean pronunciation:

[tɕo saŋ u]

, 218), head of an investment team at a securities firm, he is a junior of Gi-hun and was a gifted student, who studied at Seoul National University , but now he is wanted by the police for stealing money from his clients.

Wi Ha-joon jako Hwang Jun-ho

(Hwang Jun-ho, Korean pronunciation:

[hwaːŋ tɕun to]

),

policjant

, who sneaks into the game as a guardian, to find his missing brother.

Jung Ho-yeon jako Kang SAE-byeok

(river dawn, Korean pronunciation:

[Gan as bjʌk]

, 067), North Korean defector , who comes into play, to pay for the broker, find and retrieve family members alive, who are still abroad.

O Yeong-su jako Oh Il-nam

(oil man, Korean pronunciation:

[or nam]

, 001), an elderly man with a brain tumor, who would rather play the Game than wait to die in the outside world.

Heo Sung-tae jako Jang Deok-su

(Jang Deok-soo, Korean pronunciation:

[dzaŋ dʌk su]

, 101), gangster, who enters the Game, to settle your huge gambling debts.
Anupam Tripathi as Abdul Ali (Ali, 199), foreigner from Pakistan, who comes into play, to support your young family after that, how his employer refuses to pay him for months.

Kim Joo-ryoung jako Han Mi-nyeo

(Korean beauty, Korean pronunciation:

[han mi njʌ]

, 212), mysterious and manipulative woman, which claims, that she is a poor single mother.
Development
From 2008 roku Hwang Dong-hyuk próbował sprzedać swoją historię różnym koreańskim grupom producenckim i aktorom, but he was told, that it is too grotesque and unrealistic. W 2010 roku Netflix odnotował duży wzrost oglądalności poza Ameryką Północną i zaczął inwestować w produkcje w innych regionach, including in Korea. Ted Sarandos , co-CEO of Netflix, stated in 2018 year, that he is looking for more success than foreign productions: "It would be an exciting thing for me, gdyby kolejne Stranger Things pochodziły spoza Ameryki. Currently, historically, nothing on this scale comes from anywhere except Hollywood ". Netflix took an interest in Hwang's script 2019 year, and announced in September 2019 r., that they will produce Hwang's artwork as an original series, initially titled Round Six . Bela Bajaria from Netflix, head of global television operations, He said, that we "knew about their interest in Hwang's work, that it will be big in Korea, because he had a respected director with a bold vision "and that" K-Dramas also travels well in Asia ". As for the return to the project, Hwang commented: "It's a sad story. But the reason, for which I returned to the project, it is, that the world behind 10 years turned into a place, in which these unbelievable survival stories are so fitting, and discovered, it is time, when will people call these stories intriguing and realistic ". Hwang also considered, that the COVID-19 pandemic in 2020 i 2021 r. it influenced the economic disproportions between classes in South Korea, and he said, that "all these points did, that the story was very realistic for people compared to the situation from a decade ago ". Wraz z zamówieniem Netflix koncepcja filmu została rozszerzona do serii dziewięciu odcinków, and Hwang said, that he was able to develop a scenario like this, to "concentrate on relationships between people [i] stories, which all of them had people ".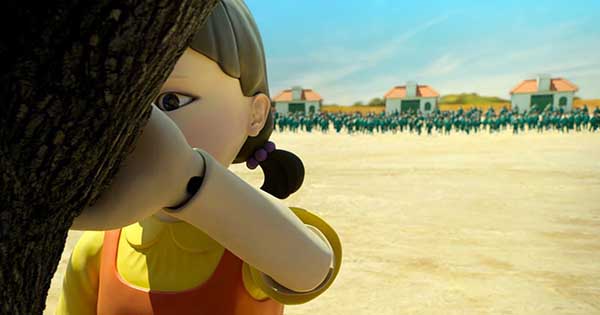 Hwang wrote the entire series himself, and it took him almost six months to write the first two episodes, then he turned to his friends, for information on further development. Hwang odniósł się również do wyzwań związanych z przygotowaniami do występu, that were physically and mentally draining, saying, six teeth fell out during the making of season one. Hwang initially said, that there are no direct plans to write a sequel to Squid Game, stating, that he did not have well-developed plans for the rest of the story, and if he had to write such a story, he would probably have a staff of writers and directors to help. Hwang powiedział w wywiadzie dla The Times, that season two might be more focused on Front Man's story, and include more information about the police. Hwang himself was a former police officer and he said: "I think, that the problem with police officers is not just a problem in Korea. I can see it on the global news, that the police may act very late - there are more victims or the situation will get worse, because they don't work fast enough. It was an issue, which I wanted to touch ". Dodał, that he also wants to investigate the relationship between the mysterious Front Man and his brother policeman Hwang Jun-ho, as well as the background of the seller character ( played by Gong Yoo ). Along with the popularity of the show, Hwang later voiced his opinion on the possibility of a second season, saying CNN: "Nothing has been confirmed at the moment, but so many people are enthusiastic, that I am really considering it ".
Hwang says, that he was inspired by the Japanese survival manga, such as Battle Royale , Liar Game i Gambling Apocalypse: Kaiji ; however, he was afraid, że fabuła była "zbyt trudna do zrozumienia i dziwaczna" w tym czasie. Hwang stwierdził: "I wanted to write a story, which would be an allegory or a fairy tale about modern capitalist society, something, which represents extreme competition, a bit like extreme life competition. wszyscy spotkali się w prawdziwym życiu". He described the work as "a loser story". Two main characters, Gi-hun and Sang-Woo, it was based on Hwang's personal experiences and represented "two sides" of himself; Gi-hun shared the same aspects of being raised by a single mother in a difficult economic situation, while Sang-Woo wondered, whether Hwang attended Seoul National University with high expectations from family and neighborhood.
Hwang based the narrative on Korean games from his childhood, to show the irony of childhood games, where rivalry was not important, becoming extreme competition for people's lives. Additionally, because his initial script was intended for a movie, decided to use games for children with simple rules, that were easy to explain, unlike other survival movies, using games with complicated rules. Główna gra, which he chose, i.e. Squid Game, has been a popular korean game for kids for years 70. i 80. XX century. Hwang recalled playing the Squid Game as "the most physically aggressive game of my childhood.", I played in the surrounding streets as a child, that's why I loved her the most "and that's why" it is the most symbolic game, which reflects today's competitive society, so I chose this as the title of the show ". Gra "Czerwone światło, Green Light "was chosen because of its potential, aby za jednym zamachem zdobyć wielu przegranych. Jeśli chodzi o wybór, Huang said: "The game has been chosen, because a scene filled with so many people randomly moving and stopping can be perceived as absurd, so sad group dance ". Hwang żartował, że wybrana przez nich gra z cukierkami dalgona może wpłynąć na sprzedaż dalgony, podobnie jak sprzedaż koreańskich him in (traditional hats) rozkwitły po emisji serialu Kingdom . Licking the candy, to release the shape, was something, what Hwang said, that he did as a child and put it into the script. Hwang rozważał inne koreańskie gry dla dzieci, such as Gonggi , VND, VND, Dongdaemun i Why did you come to my house? (why did you come to my house?, Korean variant of Hana Ichi Monme).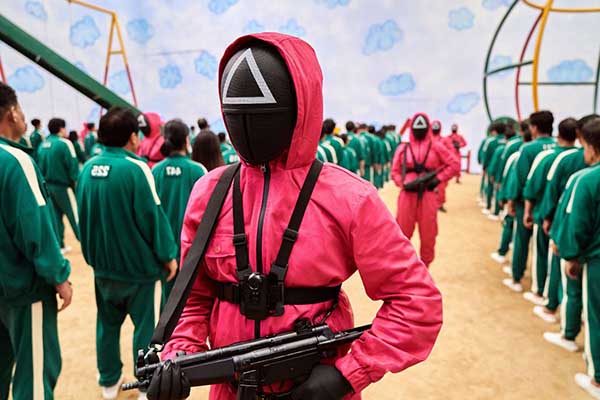 Casting
Huang said, that he chose to cast Lee Jung-jae as Gi-hun, a figure inspired by the organizers of the workers' strike Ssang Yong Motor z 2009 year [ ko ] against mass layoffs, to "destroy his charismatic image presented in the previous role". Jung Ho-yeon was asked by her new management company to submit an audition video for the show, when she was finishing her session in Mexico and getting ready for the New York Fashion Week. Although it was her first audition as an actress, and her expectations were low, Hwang said: "At the time, when I saw her audition tape from New York, I immediately thought:" This is a girl, which we want ". My first impression was this, że jest dzika i wolna jak nieokiełznany koń". Zarówno Gong Yoo, jak i Lee Byung Hun pracowali z Hwangiem podczas jego poprzednich filmów, odpowiednio Silenced i The Fortress , a Hwang poprosił obu o występy w małych rolach w Squid Game . Seating Ali Abdul, Huang said: "Trudno było znaleźć dobrych zagranicznych aktorów w Korei". Wybrał Anupama Tripathi ze względu na jego emocjonalne zdolności aktorskie i płynną znajomość koreańskiego.
Casting for the series has been confirmed 17 June 2020 r.
Costume, set design and filming
Production and shooting for the series lasted from June to October 2020 r., with a mandatory monthly break due to the ongoing COVID-19 pandemic . Według Bloomberg News , Netflix wydał około 21 milionów dolarów na produkcję serialu.
Because Netflix was targeting a global audience, the visuals were emphasized and some rules of games for children were simplified, to avoid potential problems with the language barrier. The colorful sets and costumes are designed like this, to make them look like a fantasy world. Both players, as well as soldiers wear a distinctive color, to reduce the sense of individuality and emphasize the difference between the two groups. Zielone dresy noszone przez graczy były inspirowane costumes sportowymi z lat 70., znanymi jako trainingbok ( Korean : sports wear ). Korytarze i schody przypominające labirynt czerpie inspirację z 4-wymiarowych rysunków schodów MC Escher. Skomplikowana sieć tuneli między areną, the dormitory and administrative office was inspired by the colonies of ants.
Większość zestawów była kombinacją praktycznych zestawów i tła z kluczem chrominancji . Na przykład w scenach Glass Stepping Stones zestaw znajdował się zaledwie 1,5 meters (4,9 feet) above the ground, używając ekranów z kluczem chromatycznym do symulacji wysokości w postprodukcji. Podczas kręcenia było to na tyle daleko od ziemi, that the actors were nervous, which contributed to the creation of the scene. Ekipa spędziła najwięcej czasu na tworzeniu zestawu do gry Marbles, creating a mixture of realism and falsehood, to reflect the nature of life and death of the games themselves.
Robot doll in the first episode, "Red Light, Green Light", was inspired by Younghee, character, which appeared on the covers of Korean textbooks in the years 70. i 80., a jej fryzura była inspirowana fryzurą córki Hwanga. Lalka śpiewa po koreańsku "Kwiat Mugunghwy zakwitł", nawiązując do Syriac hibiscus , narodowego kwiatu Korei Południowej.
Dalgona wykorzystane w "Człowiek z parasolem" zostały wykonane przez ulicznego z Daehangno .
Island, on which the series was filmed, była Seongapdo , położona w Ongjin .
Music
The soundtrack has been released 17 September 2021 r.
Squid Game

track listing

No.
Title
Music
Artist
Length
1.
"Way Back Then"
Jung Jae-il
Jung Jae-il
2:31
2.
"Round I"
Jung Jae-il
Jung Jae-il
1:19
3.
"The Rope Is Tied"
Jung Jae-il
Jung Jae-il
3:18
4.
"Pink Soldiers"
23
23
0:38
5.
"Hostage Crisis"
23
23
2:22
6.
"I Remember My Name"
Jung Jae-il
3:13
7.
"Unfolded…"
Jung Jae-il
2:38
8.
"Needles and Dalgona"
Park Min-ju
3:44
9.
"The Fat and the Rats"
Park Min-ju
1:52
10.
"It Hurts So Bad"
Jung Jae-il
1:13
11.
"Delivery"
23
4:55
12.
"Dead End"
23
5:25
13.
"Round VI"
Jung Jae-il
5:54
14.
"Wife, Husband and 4.56 Billion"
Jung Jae-il
4:26
15.
"Murder Without Violence"
Park Min-ju
1:53
16.
"Slaughterhouse III"
Jung Jae-il
8:16
17.
"Owe"
Jung Jae-il
2:26
18.
"Uh…"
Jung Jae-il
3:38
19.
"Dawn"
Jung Jae-il
6:41
20.
"Lets Go Out Tonight"
Jung Jae-il
3:27
Total length:
69:49
The series became the first Korean drama, which was in the top ten most watched weekly Netflix television programs around the world. Reached number one at 90 countries, w tym w Stanach Zjednoczonych i Wielkiej Brytanii. Netflix oszacował, that within 28 dni od udostępnienia Squid Game attracted over 111 million viewers around the world, surpassing 82 millions, which Bridgerton received in December 2020 of the year and becoming the most watched the show. Chociaż Netflix nie jest dostępny w Chinach kontynentalnych , pirated versions Squid Game were widely distributed on the Chinese Internet, and the show has become a popular topic on Chinese social networks. Outside the Asian regions, its popularity was mainly driven by word of mouth and viral spread on social media. Vulture also claimed, that the wide location of the program, with inscriptions in 37 languages ​​and dubbed versions in 34 languages, helped attract an international audience. Hwang was careful, that popularity was due to "irony, that hopeless adults risk their lives, to win a game for children ", as well as the knowledge and simplicity of games, which allowed the show to focus on the characterization. Variety of characters, that are playing the Squid Game, drawing from a variety of lower and mid-range backgrounds, it also helps to attract audiences to watch, how many can sympathize with one or more forms.
Multilingual viewers discussed the quality of the show's subtitles; some noticed, that English subtitles closed on the show , based on English dubbing , changed the meaning of some dialogues compared to spoken Korean dialogue or its translated English subtitles. The bilingual performers of the English dubbing admitted, that there were some translation problems, but this kind of work was difficult due to the limitations in the way subtitles were presented to viewers.
While all actors saw an increase in followers on their social media accounts in the weeks following the launch of Squid Game , Jung Ho-yeon saw one of the biggest gains, with approx 400 000 to over 13 milionów obserwujących w trzy tygodnie po premierze Squid Game. W październiku 2021 r. fashion brand Louis Vuitton has announced Jung Ho-Yeon as the new global fashion ambassador, watches and jewelry; creative director Nicolas Ghesquière said, that "he immediately fell in love with Ho Yeon's great talent and fantastic personality" from her performance in the Squid Game .
W Korei Południowej popularność Squid Game doprowadziła do gwałtownego wzrostu ruchu sieciowego, which resulted in, że SK Broadband złożyło pozew przeciwko Netflixowi, seeking pecuniary damages, to pay for the increased broadband use and maintenance costs associated with the program. Jeden z numerów telefonów użytych w serialu należał do prywatnego mieszkańca, who reported, that he picked up every day 4000 phone calls from people, several of which wanted to play the real version of the game; Netflix oświadczył, that will modify the program, to delete the number.
Since the series was introduced before South Korea's presidential election in 2022 r. , several candidates started using some Squid Game images in their political advertisements and challenging opponents of similar games, and to apply the themes of the series to economic inequalities within their political platform. Północnokoreańska państwowa strona internetowa wykorzystała Squid Game do krytycznego wykpiwania sytuacji gospodarczej w Korei Południowej, arguing, that it exposes the "animal" nature of "South Korean capitalist society.", in which humanity is annihilated by extreme competition ".
Sprzedawcy dalgony , honeycomb candy, in the second game, both in Korea, and all over the world, saw a significant increase in sales after the show's premiere. Codzienne ubrania pasujące do tych noszonych w programie odnotowały duży wzrost sprzedaży w ciągu kilku tygodni po pierwszej emisji programu, takie jak wsuwane buty Vans, które wzrosły o 7800%. Diversity attributed this increase in sales to some of the preparation of Halloween costumes inspired by the show. Sellers of other costume props, which mirrored those of the show, such as the masks of the guards, they also saw sales jumps ahead of Halloween following the show's premiere.
Wkrótce po premierze serialu użytkownicy mediów społecznościowych zaadaptowali niektóre gry z Squid Game jako wyzwania internetowe , including the first game "Red Light, Green Light "and the second honeycomb cookie game. Users of video games that support user-generated content, such as Roblox , Fortnite Creative i Grand Theft Auto Online , have created a lot of games on these systems, które były oparte na jednym lub kilku wyzwaniach Squid Game .