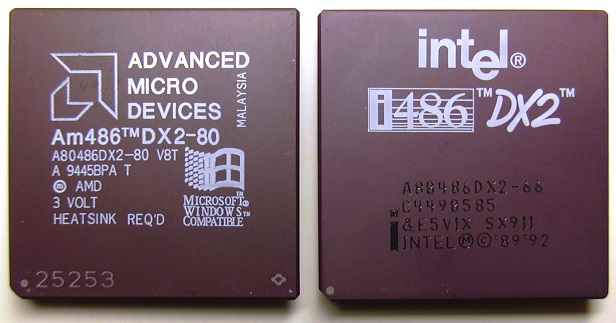 Great times, angular desktops are coming to an end. Sales of this equipment are constantly falling, for small and low-power mobile devices. However, this is not a market segment that should be neglected, because it can be considered a flagship, especially for the companies mentioned in the title. We will briefly present you the history and the current state of the struggle of the two most important players on the market of processors for PC computers.

Some history
w 1982 AMD signed an agreement with Intel for the production of processors 8086. Intel did not expect the consequences of establishing cooperation with the company from Sunnyvale.
The real fight began when in years 90 AMD has released the equivalents of Pentium processors - K5 and K6. Even then, the professional press mainly contrasted these two companies, and it has remained so to this day. Although in terms of performance that the average user could tame, the fight seemed to be even, However, it was Intel and its Pentium that always turned out to be the top in terms of marketing (doesn't that sound better than K6?). W 2006 year, AMD took over the company, who was in a similar situation to hers: you. And as some say - it was a mistake. Instead, focus on the laptop segment and developing more and more
more efficient and less powered mobile systems, Advanced Micro Devices divided their attention, losing strength to fight more than one, and two competitors. The effect of this was as follows: To this day, AMD products struggle with the opinion of monsters that are heated and hungry for the current.
The company itself has lost a great opportunity to enter the growing laptop market.
At the same time, Intel, he set the standards from the hegemonic position: multi-core, low voltage, integrated with the processor, quite efficient graphics chips or of course newer and newer instruction sets for the CPU itself.
Some numbers.
Both companies control almost 100% the market of processors for personal computers. At the same time, Intel has approx 80% Share and AMD 19%. Intel's revenues are a trifle 37 times greater than AMD's revenues and oscillate within 56 billions of dollars a year. Intel has over a dozen factories around the globe, AMD sold the last factory in 2009 year and focused on external companies, to cut costs. As a consolation for AMD, we can say, that their layouts are found in the most popular consoles: Xbox and Playstation 4.
So what?
There is no doubt: If we choose a desktop computer, especially mid-range, the choice between AMD and Intel is still real.
Multicore monsters with sky-high clock rates, on which, after disconnecting the cooling, you can prepare a solid bowl of bigos - they still offer performance competitive to Intel products, for a price even several dozen percent lower! Similarly, contrary to appearances, the case is with laptop computers. For the average user, the power reserve offered by today's PC processors, it's huge: As long as the system is operational and not cluttered, a casual user will not feel any discomfort at work.
It is in our interest, for AMD to follow Intel's heels. Otherwise, the latter will become a monopolist and rest on its laurels, and observing the increasing requirements of even basic applications (some see the root of this in programmers' laziness, others in collusion), sooner or later, if we are not dealing with innovation - we will hit the wall.