Recording audio from a computer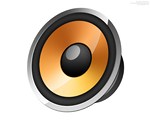 Sometimes we need to record some sound from the computer, e.g.. music excerpt from the youtube movie, or our skype conversation. In this tutorial we will show you how to record the sounds coming from your computer and save them in mp3 format.
Preparation
Windows Vista, Windows 7
1. Przechodzimy do menu Start, następnie Control room panel i włączamy aplet Sound.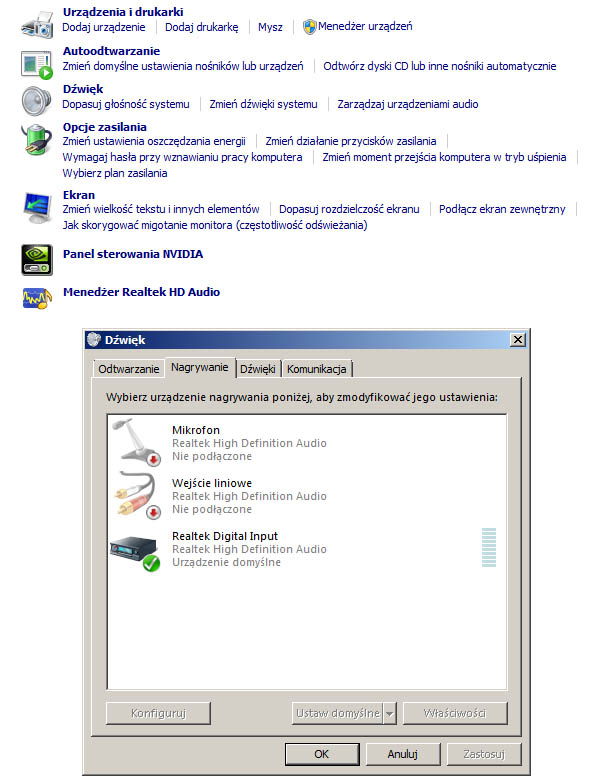 2. Przechodzimy do zakładki Recording. Odszukujemy Why stereo. Jeżeli na liście nie występuje Why stereo klikamy prawym przyciskiem myszy na liście urządzeń do nagrywania i wybieramy Show disabled devices.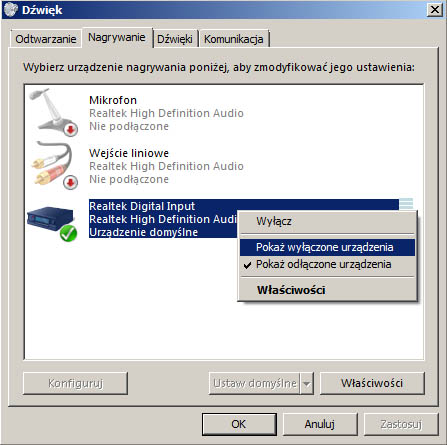 3. Klikamy prawym przyciskiem myszy na Why stereo i wybieramy Turn on. We click on OK i przechodzimy do dalszej instrukcji – Sound recording.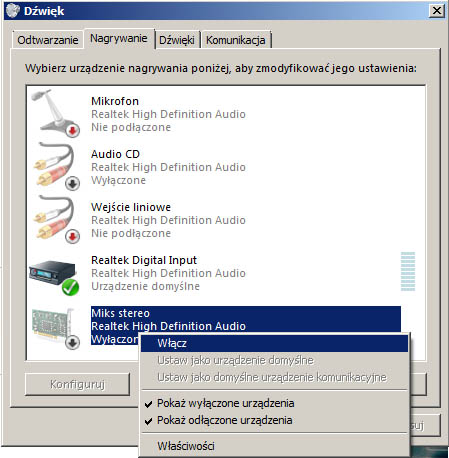 Windows XP
1. Klikamy w menu Start, and then Control room panel. W Control Room Panel uruchamiamy aplet Sounds and audio devices.
2. W Device volume klikamy w Advanced ... Z menu Options we choose Properties.
3. W nowo otwartym okienku Properties zaznaczamy Recording, and then Why stereo and click on OK.
4. Został dodany do naszej listy urządzeń do nagrywania Why Stereo. Ustawiamy odpowiednią jego głośność za pomocą suwaka i klikamy w Mark w celu wybrania go do rejestracji dźwięków. We close the open windows and go to the next part of the manual entitled: Sound recording.
Remark! Jeżeli nie odnalazłeś miks stereo to znaczy, that you do not have the correct audio drivers installed. Update your audio drivers.
Sound recording
Once we have the computer ready for sound recording, The sounds coming from our speakers can be recorded using all sound recording programs. For this purpose, we recommend Audacity - an advanced sound editor.
1. Pobieramy program Audacity (suitable for your version of windows), which is available for download on the website:
www.audacityteam.org/download/legacy-windows/
oraz kodek LAME MP3 for Audacity:
https://web.archive.org/web/20110819191956/http://lame.buanzo.com.ar/Lame_v3.98.3_for_Audacity_on_Windows.exe
2. We install previously downloaded programs, we restart the computer, and then run Audacity.
3. Z listy urządzeń służących do nagrywania wybieramy Why stereo. Rozpoczynamy nagranie klikając w przycisk Record (red dot), kończymy klikając w przycisk Alloy (gray square).
4. Once we have recorded the soundtrack, let's save it in mp3 format. W tym celu z menu File we choose Export. Podajemy nazwę naszego nagrania i z listy Save as type: we choose MP3. We click on Save, in the next box we can provide mp3 tags, a po ich podaniu klikamy w OK. In newer versions, if we click export – we can immediately choose the recording format, e.g.. mp3.
In some people, after marking the option "show disabled devices", there is no – why stereo.

Means, that you are taking advantage of the bad, or system drivers for the sound card - download new drivers for the sound card from your manufacturer's website and it should work.